Sometimes I feel like everyone has some kind of a tummy going on these days.
Have you noticed this as well?
Three Great Ways to Hide a Tummy
Tummies seem to affect anyone no matter what kind of a body shape or size they may be.
I know plenty of relatively slim people out there who have gained a 'pouch' over the years. I am sure that you know of some folks as well.
The shape of our midsection starts with what we are given via genetics.
Over the years we add to that thanks to lifestyle, beverage, and food choices that we make. It gets harder and harder to get rid of that tummy especially as we age. I am sure that most everyone has found this out.
So, the next best thing that we can do is learn how to deal with a tummy
How do you deal with a tummy?
It seems as if more and more of us are growing our tummy especially as we get older. Learning how to hide that tummy can help us wear some of the clothing that we like to wear.
Getting into a fitness mode- doing sit-ups etc- are theoretically suppose to help us firm our ab muscles.
Lord knows I've been working on my ab work for years. It can take more than just ab work to hid a tummy.
I believe that learning how to dress a tummy can do wonders.
Embrace undergarments that hold a tummy in.
There are tops, bottoms, and combination items that we can wear to help control a tummy.

Women's Shapewear tank shapewear bodyshorts

High Waisted Shapewear Brief

High Waisted Shapewear Brief
Cover the area with elements of design such as the peplum or loose top.

Peplum Shirt

Drape Front Tank Top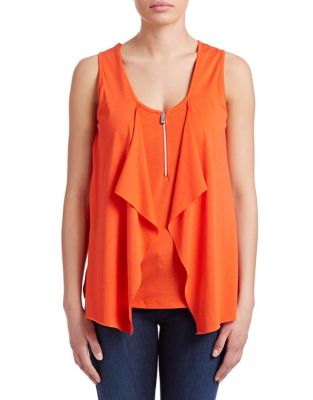 Armani Jeans Drape Panel Jersey Tank Top
Or you can distract from your tummy area with a neckline, asymmetrical cut, or by showing off another part of your body like your legs.


Sleeveless Mockneck Sharkbite Top

Deep V Top with Print.cloud.X

Geometric Jacquard Mini Skirt
Here are more 'Tummy Hiding Clothing' ideas
Comments
comments
Google+ Comments