When was the last time you wore a jumpsuit?
Plus size gals, jumpsuits can be your friend.
Plus Size Fashion Trend- Jumpsuits
Jumpsuits are back and they are a big fashion trend this year. Celebrities wear them because they can be sheik and flattering. Designers love jump suits because they can be worn by a variety of body types.
Plus Size Gals Should Invest in a Jumpsuit

Here is why:
Jumpsuits are even better than dressing in one color because you don't get the break up between your top and bottom.
Jumpsuits skim the body, hiding 'flaws' such as a tummy.
Jumpsuits can give the illusion of height and lengthening of your appearance.
Jumpsuits- dress them up or dress them down. It all depends on the shoes that you wear and the accessories that you wear with them.
Roam wild in this must-have jumpsuit, featuring an airy tank top and tapered leg pants covered in an eye-catching zebra print. Pair with gladiator sandals for a fierce ensemble. [Read more]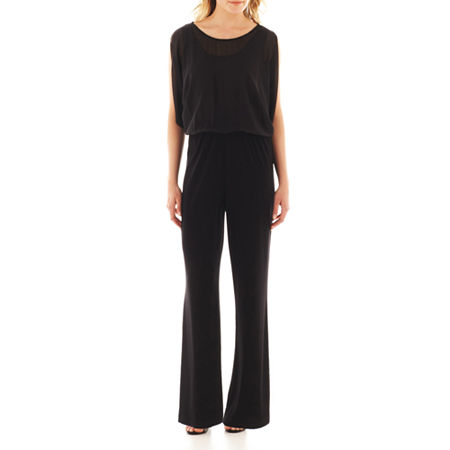 Chic, yet relaxed, the retro-inspired vibe of our blouson jumpsuit is perfect for making a striking style statement. polyester top and lining polyester/spandex pants machine wash, dry flat imported RETURNS: This jumpsuit must be returned in its original condition with the green return tag in place. [Read more]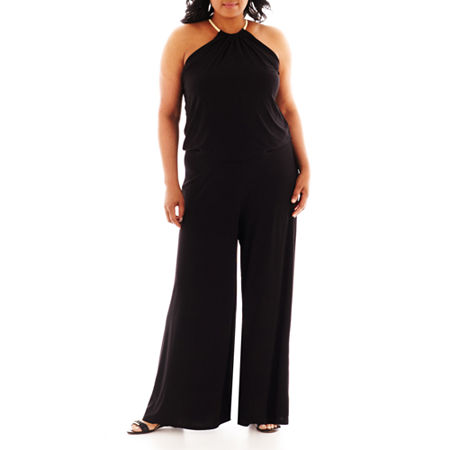 MSK Halter Embellished Jumpsuit – Plus
Take your trend-right style to new lengths with our long jumpsuit, featuring a flattering blouson design and neckline embellishments that add a chic, accessorized appearance. 61¼" length from shoulder polyester/spandex hand wash, line dry imported [Read more]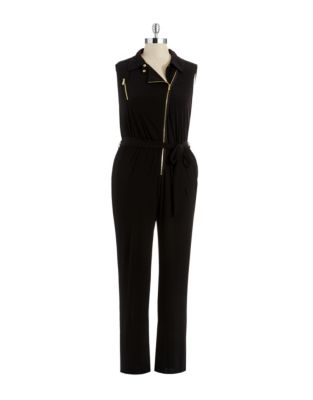 Calvin Klein Womens Plus Zip Front Jumpsuit
Get ultimate style with this jumpsuit from Calvin Klein. Crafted with a classic collar; a blouson and belted waist and gold-toned hardware; pair this jumpsuit with heels for the perfect girls night out look. [Read more]
How to buy a jumpsuit
Look for a flowing one color silhouette for over-all slimming. The darker the color, the more slimming it will look. The brighter- the less slimming (bright yellow may not look so great gals).
Draw the eye away from 'flaws' by wearing a jumpsuit that distracts. A heavy lower half can be distracted by a v-neck or patterned top part. Be weary of belts or ties around the waist unless your waist is what you are trying to show off. Check your backside in the mirror if you do wear a belt.
Stay away from fabrics that cling. Use a full length mirror and check the front an back before you buy.
Check the mirror before you head out. A jumpsuit fits correctly if there is no pull in the fabric across the chest. When you bend over, check the seam on the booty.
When you wear your jumpsuit, keep in mind any exit strategies in the event of having to use the girls room. Some jumpsuits are easier than others.
Here are some more jumpsuits that can flatter your look.
Comments
comments
Google+ Comments