Lane Bryan is bringing out Dots that Work!
If you have been someone who has always thought that gals with curves cannot wear dots, check this out.
Dots that Work for Plus Size Gals
I think that the idea that curvy gals can't wear dots is another one of those 'fashion urban legends'.
The truth is that a gal with curves can wear dots. Just like a gal with curves can wear a pattern.
Some folks have said that patterns, and dots, can work to make a body appear bigger. As a result, curvy gals have shied away from wearing dots and patterns out of fear that we may be mistaken for our mother's graphic couch from decades ago.
Just like pretty much anything else a curveless gal can wear, it's all about knowing how to wear it.

Knowing how to wear a short skirt works for us as long a we know what kind of a skirt cut to wear. Wearing skinny jeans works when we know what to pair it with. Patterns, and dots, can work when we know how to wear them
So, how do we wear dots and get away with wearing those dots without looking like an old couch?

easy.
Here are the tricks to remember when you want to carry off a dot look.
Limit your overall look to just one pattern- those dots.
Small dots look best when positioned close together.
Larger dogs look best when they are all the same size and color.
The dots should be the color that stands out in your outlook.
Limit your look to the color of your dots and a neutral background color- like white or black.
Black, somewhere in your look, always seems to anchor a pattern.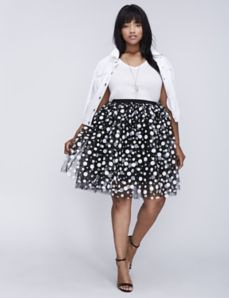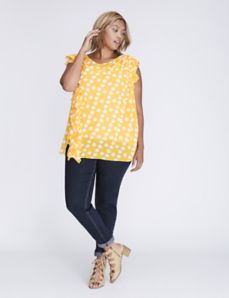 DOT PRINT RUFFLE SHELL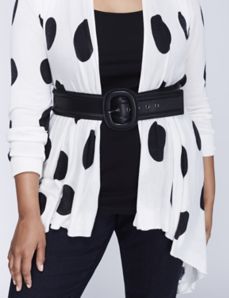 COVERED BUCKLE STRETCH BELT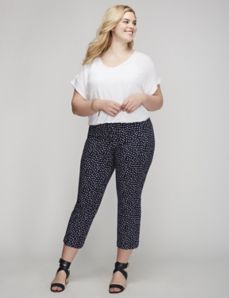 LENA CROP
was $64.95
now $52.99 – $64.95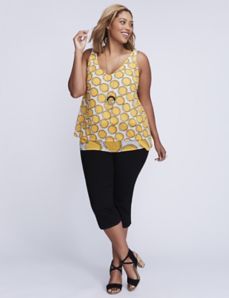 SCRIBBLE DOT SWING TANK
$49.95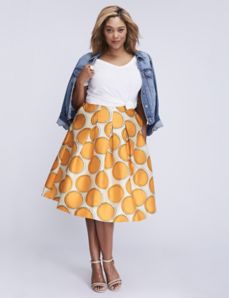 BOX PLEATED CIRCLE SKIRT
$69.95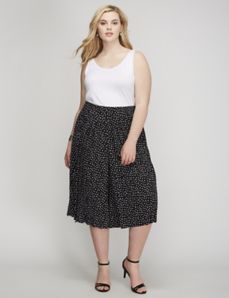 Comments
comments
Google+ Comments